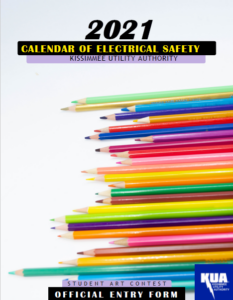 We use electricity to power some of our favorite toys, gadgets and appliances on a daily basis, but if used incorrectly electricity can pose very serious hazards. With a growing number of children using iPads, smartphones, and other devices that require charging, electrical safety awareness is becoming increasingly essential for young people to understand.  Electrical hazards are listed as the cause of nearly 4,000 injuries per year in the U.S., however, a large majority of electrocutions and house fires are preventable by following basic electrical safety principles and guidelines.
To educate children about electrical safety and encourage them to develop their artistic expression, Kissimmee Utility Authority (KUA) , KUA has opened the Call for Entries for our 27th annual calendar art contest. The contest is open to Osceola County students in kindergarten through sixth grade. Deadline for entries is Friday, Nov. 20, 2020.
Download the ENTRY FORM now.
For contest questions, please email pr@kua.com.