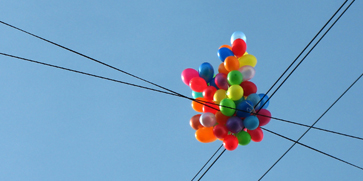 KISSIMMEE, Fla., July 5, 2016 – A patriotic party favor was responsible for knocking out power to nearly 2,300 homes and businesses in Kissimmee Tuesday morning, the Kissimmee Utility Authority reported today.
The large bouquet of patriotic balloons became entangled in high-voltage power lines along Boggy Creek Road, northeast of downtown Kissimmee, affecting 2,265 customers. The outage began at 11:08 a.m. and all service was restored 27 minutes later at 11:35 a.m.
Helium-filled balloons made of Mylar — a metalized nylon substance — can float into power lines, causing power outages, downed lines and damaged equipment.
Whether celebrating a holiday, baby shower or other special occasion, KUA recommends these simple safety rules for handling metallic balloons:
— Be sure to secure a helium-filled balloon with a weight heavy enough to prevent it from drifting away.
— Never bundle metallic balloons together.
— Keep metallic balloons indoors and never release them outside.
— Never attach metallic streamers to any balloon, latex or metallic.
— Do not attempt to retrieve a balloon, or any foreign object, tangled in power lines. Instead, call KUA at (407) 933-9898 to report the problem.
Founded in 1901, KUA (www.kua.com) is Florida's sixth largest community-owned utility powering 70,000 customers in Osceola County, Fla.