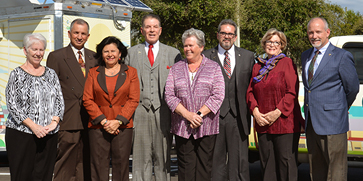 KISSIMMEE, Fla., November 2, 2017 – Kissimmee Utility Authority's board of directors made history Wednesday with its annual election of officers and installation of its newest member.
During its regular monthly meeting held Wednesday, Jeanne Van Meter (pictured) was elected chairman of the five-member volunteer board. Kathleen Thacker was elected vice chairman, Ethel Urbina was elected secretary and Manuel Ortega was elected assistant secretary.
The board also welcomed Rae Hemphill who filled a vacant seat left open by the departure in September of Reginald Hardee who finished two terms on the board.
Van Meter's election as chairman made KUA history as the first husband and wife to each chair the utility board. Jeanne's husband Bruce served as KUA's first chairman after the utility authority was created in 1985.
The utility's five-member board of directors sets policy direction for the utility. Specifically, the board approves annual budgets, sets rates and approves major purchases. The board also directs a general manager who is responsible for day-to-day operations of the utility.
Van Meter is a 44-year resident of Kissimmee and a retired realtor. She is a former Kissimmee City Commissioner, and previously served on the boards of Valencia College, Greater Orlando Aviation Authority and the Kissimmee/Osceola County Chamber of Commerce. Van Meter is a past chair of Help Now of Osceola.
Founded in 1901, KUA (https://kua.com) is Florida's sixth largest community-owned utility powering 74,000 customers in Osceola County, Fla.