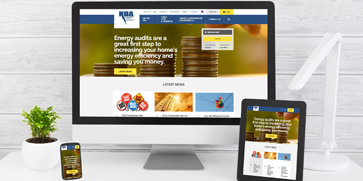 KISSIMMEE, Fla., July 12, 2016 – Kissimmee Utility Authority has launched a new website, providing anytime, anywhere access for its 70,000 customers.
The site uses responsive design to ensure optimal viewing on desktop and mobile devices, giving users an experience that is more aesthetically pleasing, more engaging and easier to navigate. The site also uses upgraded security features to protect customer information.
Among the features of the new website:
Multilingual accessibility, with six language options
Current lobby and call center wait times
Interactive map showing bill payment locations
Real-time power outage viewer
Storm Center resource section with downloadable hurricane handbook
Self-guided home energy audit
Residential and commercial rebate information
Agendas, minutes and video/audio recordings of monthly utility board meetings
Fully integrated social board that gathers all of the utility's social media content to a single page

Customers can access the new KUA website from any online device at www.kua.com.
Founded in 1901, KUA is Florida's sixth largest community-owned utility powering 70,000 customers in Osceola County, Fla.