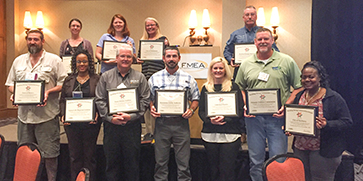 KISSIMMEE, Fla., November 13, 2017 – The Florida Municipal Electric Association has presented its 2017 Building Strong Communities Award to Kissimmee Utility Authority for the utility's strong commitment to addressing community needs during the past year. KUA was one of 12 utilities honored statewide.
FMEA executive director Amy Zubaly presented the award to KUA during ceremonies held Nov. 8 at the association's Energy Connections Conference and Trade Show in St. Augustine.
"Being a part of the community is about more than making sure the lights are on," said Zubaly. "The recipients of the 2017 FMEA Building Strong Communities Awards excel in not only taking an interest in seeing their communities succeed, but also actively working toward making them better places to live and building strong communities."
The award is presented annually to utilities that enhance the quality of life in their communities through activities that address community needs and improve the area's social, cultural, educational and economic environment.
In the past year, KUA supported nearly 100 community organizations and activities that impacted a combined 250,000 residents. Notable projects included:
• daily employee delivery of meals to homebound seniors through Meals on Wheels
• distribution of 65,000 free hurricane preparedness guides
• sponsorship of the Osceola Fall Art Festival
• purchase of Junior Achievement curriculum for 350 classrooms in Osceola County
• hosting of six community blood drives
• funding of five college scholarships for local high school students
• support of Thanksgiving meal for homeless military veterans
• participation in holiday toy drives for children in need
• support of local student participation in worldwide FIRST Robotics Competition
"Partnering with the community is a core value of our organization and part of our mission statement," said KUA president and general manager Jim Welsh. "I am thrilled that KUA has again received statewide recognition for its work in the local community."
KUA's mission statement: To provide reliable and economical services to our customers while partnering with the community and the environment.
About FMEA
The Florida Municipal Electric Association (FMEA) represents the unified interests of 34 public power communities across the state, which provide electricity to more than 3 million of Florida's residential and business consumers.
About KUA
Founded in 1901, KUA (https://kua.com) is Florida's sixth largest community-owned utility powering 74,000 customers in Osceola County, Fla.
# # #
Photo cutline: Front (left to right): William Pinson, Town of Havana; Erica Stephens, Gainesville Regional Utilities; Michael Poucher, Ocala Electric Utility; Aaron Haderle, KUA; Jessica Stanphill, Lakeland Electric; Jeff Mann, Orlando Utilities Commission; Johnnie Mae Garrison, City of Newberry. Back (l to r): Jamie English, City of Leesburg; Christina Simmons, City of Bushnell; Margaretrose Cox, City of Tallahassee; Lamar Whitaker, Beaches Energy. Not pictured: Keys Energy Services.