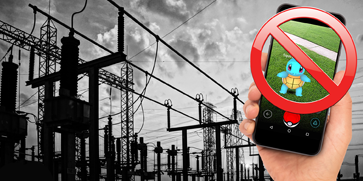 KISSIMMEE, Fla., July 18, 2016 – As Osceola County residents capture, battle and train virtual creatures with the new Pokémon Go mobile game, Kissimmee Utility Authority urges players to stay away from electric facilities, such as substations and power plants, even if the game leads to that equipment.
Climbing a utility pole or a fence surrounding a substation is not only a crime, but extremely dangerous. These facilities should not be considered gaming locations.
KUA reminds players to:
• Pay careful attention to signs and warnings near or around high-voltage electrical utility equipment.
• Never touch electrical equipment, including transformers and power lines.
• Never climb utility poles, transmission towers or substation fences.
• Power lines near trees also pose a danger; exercise caution and check for power lines before climbing a tree.
"We know players want to #CatchEmAll, but they should do so at a safe distance from electrical equipment," said utility spokesperson Chris Gent. "Don't let your Pokémon pursuit lure you to personal injury or even arrest."
Founded in 1901, KUA (www.kua.com) is Florida's sixth largest community-owned utility powering 70,000 customers in Osceola County, Fla.