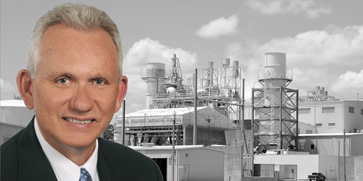 KISSIMMEE, Fla., July 26, 2016 – Kissimmee Utility Authority's vice president of power supply Larry Mattern was elected treasurer of the Florida Municipal Power Agency's board of directors and All-Requirements Project executive committee at the agency's annual meeting held last week in Osceola County. This is his second term as treasurer.
Mattern was appointed as Kissimmee's alternate to FMPA's board of directors in 2007 and as a member of the board in 2014. He has served on the executive committee since 2011.
Mattern has led KUA's power supply department since 2007 and has more than 25 years of experience in power plant construction and operation, generation planning, environmental compliance, contract negotiations, budget planning and personnel management.
FMPA's All-Requirements Project provides the wholesale power needs of 13 Florida cities, including Bushnell, Clewiston, Fort Meade, Fort Pierce, Green Cove Springs, Town of Havana, Jacksonville Beach, Key West, Kissimmee, Leesburg, Newberry, Ocala and Starke. All-Requirements gives members control of their wholesale power supply and enables municipal electric utilities to work together for their mutual benefit.
Founded in 1901, KUA (www.kua.com) is Florida's sixth largest community-owned utility powering 70,000 customers in Osceola County, Fla.