President and General Manager, CEO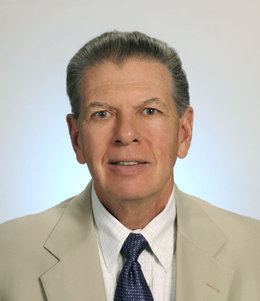 Download High Quality Photo
CAREER HIGHLIGHTS
James C. Welsh is the President and General Manager, CEO, of KUA and has been chief administrator of this electric utility since December 1982. He holds a Bachelor of Science degree in electrical engineering and a Master of Science degree in engineering from the University of Pennsylvania, and a Masters in Business Administration degree from Rollins College.
Mr. Welsh is a registered professional engineer and had 11 years previous electrical utility experience in Pennsylvania, Colorado, and Kentucky before assuming management responsibility for the System.
The Executive Office arranges all policy-making and informational public meetings for the KUA Board of Directors. One of the responsibilities of the President and General Manager is to ensure that policies made by the KUA Board of Directors are implemented and direction that is given by the Board is properly followed throughout the utility.
The Executive Office is where recommendations are brought and decisions are made to take these recommendations for the betterment of KUA's customers and KUA's operation before the Board for consideration. The direction that KUA takes is based on the needs of the community. This is achieved through involvement in the community and a harmonious working relationship with both city and county government personnel to encourage a unified vision.
The President and General Manager provides leadership and support of the executive staff to ensure reliable and quality service to our customers. The executive staff has daily interaction with personnel from other electrical utilities and public power organizations, employees, and customers.