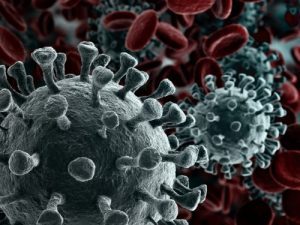 As an essential service provider, KUA is taking precautions to reduce risk to our employees, the public and our operations in response to the Coronavirus (COVID-19) pandemic.
We've restricted employee business travel, encouraged employees to work from home, postponed all large non-essential meetings, and implemented additional protocols to keep our facilities clean. All of these steps are being taken to ensure the reliable delivery of electricity to you.
CUSTOMER SERVICE CENTER
Our customer service center reopened to walk-in traffic on Monday, June 8. Lobby hours are 7 a.m. until 6 p.m., Monday through Friday. Those visiting the facility are required to wear face coverings and undergo a temperature check prior to entering. Social distancing guidelines will be followed, limiting the number of customers in the lobby at a given time. Customers may be asked to wait outside or in their vehicles until called. 
Customers can continue to conduct business with the utility online at kua.com or through our call center, 407-933-9800.
SERVICE DISCONNECTIONS
Effective June 22, KUA will lift its moratorium on service disconnections for non-payment.
PAYMENT PLANS
We encourage customers who are experiencing difficulty paying their electric bill for any reason to notify us as quickly as possible so we can make arrangements that can help avoid a worsening financial situation.
Those customers in need of payment assistance can contact the Osceola Council on Aging at 407-933-9540, which administers both KUA's Good Neighbor Utility Assistance Fund and Low Income Home Energy Program (LIHEAP) funds from the federal government. Calls are taken beginning at 2 p.m. on the first and third Tuesday of each month where appointments are made for the following two weeks. Qualifications for receving LIHEAP funds can be found here.
HOME ENERGY AUDITS
KUA now offers virtual energy efficiency audits for residential customers. All in-person audits were suspended in March, due to the pandemic. Call or email kuagreenteam@kua.com to schedule.
BILL PAYMENT OPTIONS
We remind customers that utility bill payments can be made in a variety of ways that don't require face-to-face interaction, including:
► Online with a Visa, MasterCard, Discover credit/debit card or electronic check at kua.com
► Credit card or electronic check via phone at (407) 933-9800
► By check, mailed to our lock box: P.O. Box 850001, Orlando, FL 32885-0096
► Via an ACH bank draft sent directly from your bank
► Or by using the drive-up drop box accessed at the entrance to our Carroll Street building
Customers wishing to make a cash payment can do so free of charge at any area Amscot store. To find a location near you, visit https://www.amscot.com/locations/florida/kissimmee.
BEWARE OF SCAMMERS
Scammers take advantage of the vulnerable during times of crises. Be alert for increased scam activity. We will never demand immediate payment or request a specific payment method such as a prepaid debit or credit card to avoid service disruption. Report any suspicious requests to us.
PRECAUTIONS YOU CAN TAKE
Patients with COVID-19 have experienced mild to severe respiratory illness. Symptoms can include fever, cough and shortness of breath. Symptoms may appear 2-14 days after exposure. 
If you are sick with Coronavirus Disease 2019, or suspected of being infected with it, follow the steps in the fact sheet (English Fact Sheet or Spanish Fact Sheet) to help prevent spreading it to people in your home and community.
Residents who suspect that they are infected with the virus that causes COVID-19, should contact their healthcare provider immediately. Those residents should restrict activities outside of their home, except for getting medical care. Do not go to work, school, or public areas. Avoid using public transportation, ride-sharing, or taxis.
RESOURCES
Osceola County – https://www.osceola.org/covid19/
Osceola District Schools – https://osceolaschools.net/coronavirus_information
City of Kissimmee – https://www.kissimmeeresponds.com/