Movie in the Park
KUA has brought family-friendly movies and other activities to Kissimmee Lakefront Park since 2015. Our "Movie in the Park" events have become much anticipated and widely attended among Osceola County families as KUA's unique way of giving back to the community we serve.
Held on the first Friday of the month, October thru March, families can enjoy a free movie on a 50-foot screen, free popcorn, inflatable activities, crafts, a free photo booth, and prize giveaways.
Our next two movies, weather permitting, are on March 3  (Sonic 2) and March 31 (Minions: The Rise of Gru). The park opens with free activities at 5:30 p.m. and. The movies start at 7 p.m. Visit kua.com/movie to learn more about our Movie in the Park series.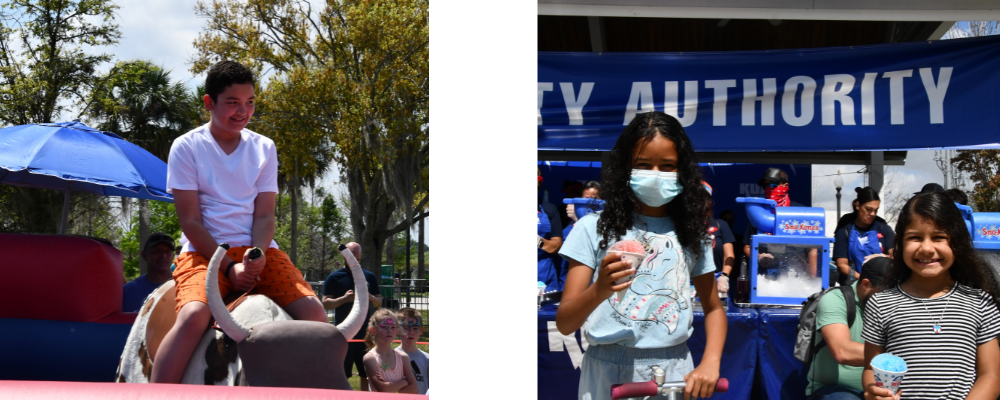 City of Kissimmee Events
In addition to our Movie events, KUA also sponsors the City of Kissimmee's event series, including Kowtown, the Monumental 4th of July Celebration, and the MLK Unity Festival. During these events, KUA provides the main kids' attraction — The KUA Kids Power Zone — which includes various inflatable activities and obstacle courses for children of all ages to enjoy.
We look forward to the City of Kissimmee's Kowtown Birthday Celebration on March 18, as Kissimmee turns 140 years old! KUA will serve snow cones, offer free crafts and provide the KUA Kids Power Zone at Kissimmee Lakefront Park from noon to 4 p.m.