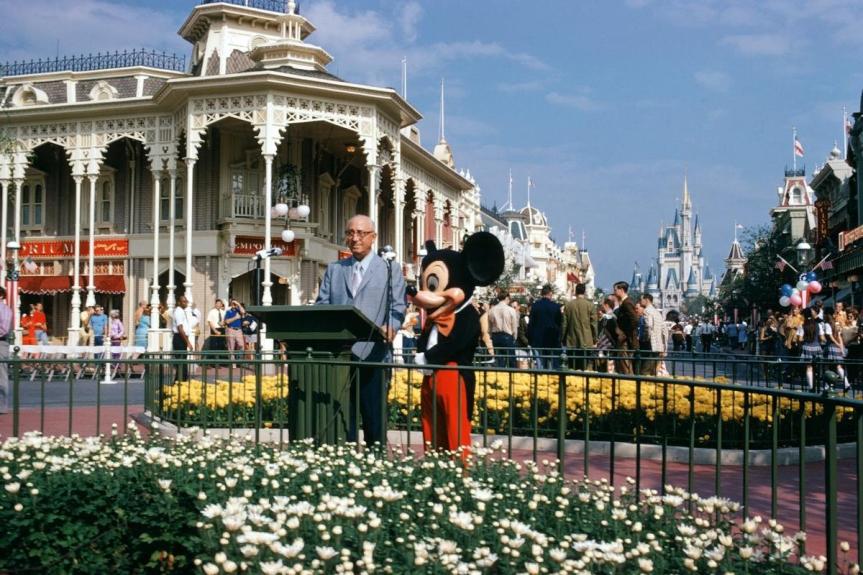 As we mark today's anniversary of the opening of Walt Disney World, we take a look back at how the opening of the entertainment complex impacted Kissimmee and its electric utility, and how the utility's first attorney brokered many of the secret land transactions that ultimately created the resort as we know it today.
Disney had begun buying land in northwestern Osceola and neighboring northwestern Orange counties in 1964. Walt Disney had built an entertainment empire on Mickey Mouse and his cartoon characters, and in 1955 the Disney company had opened a theme park near Anaheim, California. Disneyland was an immediate hit, although Walt Disney knew early on that he had made a colossal mistake in only purchasing 68 acres for the California theme park. Within six months of its opening, Disneyland was surrounded by commercial sprawl.
Walt Disney vowed not to let that happen the next time. At about the time of the 1964 New York World's Fair, Disney conceived the idea of a second theme park and experimental future city he called EPCOT (Experimental Prototype Community of Tomorrow). Disney and his brother Roy – who handled the company's business affairs – soon settled on Central Florida as a likely site for the new theme park and EPCOT. The Disney brothers were attracted by the year-round warm climate, the distance from coastal hurricanes, and the availability of cheap land.
In 1964 and 1965, Disney agents quietly assembled more than 27,000 acres in Osceola and Orange counties at a purchase price of just over $5 million. To avoid a burst of land speculation, Disney used various dummy corporations to acquire the land. Many of these land purchases were brokered by Ed Brinson, a well-known private-practice attorney in Osceola County who would go on to become KUA's first attorney in the 1980s. Kissimmee residents knew something was going on with the purchases, and speculation about the buyers ran rampant across Central Florida. One school of thought said it was South Americans buying up cattle land. Another popular theory was that Howard Hughes was putting together a huge estate. Still a third theory speculated that the U.S. government and NASA were building a huge air base for the proposed space shuttle.
Speculation was put to rest in October 1965 when Florida Governor Haydon Burns announced that the purchaser was Disney, and that the state legislature would pass enabling legislation to help establish Disney's Magic Kingdom as the world's pre-eminent theme park.
In the spring of 1967, Disney crews began transforming more than 40 square miles of Osceola and Orange counties. The Kissimmee Light & Water Department began to feel the pinch almost immediately.
The Light & Water Department did not serve the Disney project directly. Roy Disney had created the Reedy Creek Improvement District to provide the main source of electric power to the theme park itself. But Kissimmee Light & Water served many of the residential subdivisions that sprang up to house construction and theme park workers, as well as the commercial areas along Highway 192.
"The residential areas started growing east of town," recalled retired line crew supervisor Bill Groover. "They were all being built for Disney employees. Buenaventura Lakes, a new 2,350-acre planned community, was the first big subdivision."
Overnight, it seemed, construction exploded in Kissimmee and Osceola County. During its first eight years of operation, Disney World welcomed more than 100 million guests. All those tourists had to have someplace to stay and eat, and the Highway 192 corridor through Kissimmee soon became filled with new hotels, motels and restaurants. And all those new hotels, motels and restaurants required vast amounts of electric power.