Be Prepared for Hurricane Season
At Kissimmee Utility Authority, we're always preparing for the next storm season – and we're committed to helping you prepare, too.
We're pleased to offer our 2020 Osceola Hurricane Handbook to help you and your family prepare for the season. You can download it here or by clicking on the handbook graphic.
To receive a copy of the printed handbook by mail, residents should contact KUA at 407-933-9838 or by e-mail at hurricane@kua.com.
Persons with disabilities who would like to request this information in an alternative format should contact KUA at rmorris@kua.com or 407-933-7777 x6513.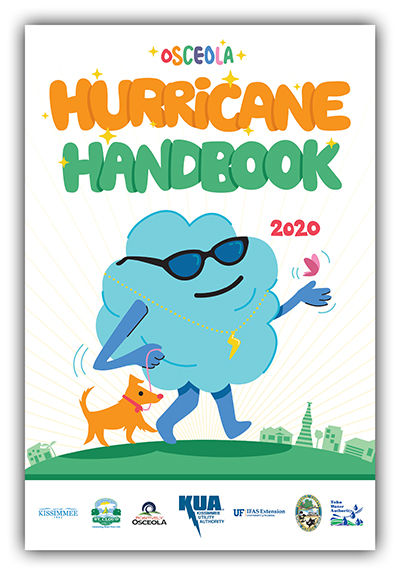 ---
REPORT OUTAGE
Mobile Devices: Tap or Scan the QR code to report an Outage via text.
The quickest way to report a power outage to KUA is via text message. If an outage occurs, text the word "OUT" to our toll-free number 877-582-7700 and you will be prompted through the system. When power is restored, a follow-up message will be sent. Outages can also be reported by telephone at 407-933-9898 or in our online portal at my.kua.com.
HURRICANE SEASON LINKS
KUA
OUTAGE MAPS 
To view a map of outages in your area, please click here.
WEATHER
LOCAL INFORMATION
TELEVISION
RADIO
NEWSPAPER
ASSISTANCE