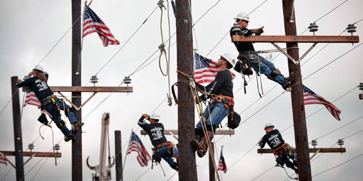 KISSIMMEE, Fla., March 7, 2018 – Thirteen linemen from Kissimmee Utility Authority will compete against linemen from other utilities across the state in Saturday's 18th annual Florida Lineman Competition in Kissimmee, sponsored by the Florida Municipal Electric Association and hosted by KUA.
The purpose of the day-long rodeo is to demonstrate the skill, safety and teamwork of electric linemen in a series of timed events based on traditional lineman tasks. This year's competition will feature 21 journeyman teams and 72 apprentices.
"This annual rodeo enables linemen to test their knowledge and skills in a fun, competitive environment," said Brian Horton, KUA's vice president of engineering and operations. "The competition creates safety awareness, builds teamwork and tests the readiness of our crews as we prepare for this year's hurricane season."
There are two levels of competition within the rodeo: journeyman teams and apprentices. The journeyman teams consist of three members – two climbers and a ground worker. An apprentice lineworker competes as an individual and has four or fewer years of experience in an apprentice program. Both levels of competition will participate in five timed events.
Representing KUA will be:
Journeyman Teams – Team #1: Austin Franey, Shane Paras and Billy White; Team #2: Austin Gunther, Kevon McKinsey, Tony Nasco
Lars Akkerman, Nick Aviles, Brian Cutcher, Danny Kelly, Chris Kitting, Brendan Laflamme and Shane Yarborough will compete in the apprentice competition.
George Blair, Jamie Boswell, Dustin Kelly, Willie Simmons, Barney Thompson, Dave Wolfe and Jason Wright will serve as event judges. Aaron Haderle will serve as rodeo coordinator, and Logan Murphy will serve as competition field coordinator.
The competition will be held at Osceola Heritage Park, 1875 Silver Spur Lane, in Kissimmee. The event begins with opening ceremonies at 8 a.m. The event is free and open to the public.
About FMEA
The Florida Municipal Electric Association (FMEA) represents the unified interests of 34 public power communities across the state, which provide electricity to more than 3 million of Florida's residential and business consumers.
Founded in 1901, KUA (www.kua.com) is Florida's sixth largest community-owned utility powering 74,000 customers in Osceola County, Fla.