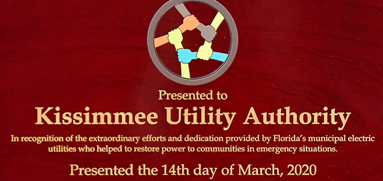 KISSIMMEE, Fla., May 13, 2020 – The Florida Municipal Electric Association has presented Kissimmee Utility Authority with its "Restoring Communities Award" for the utility's outstanding efforts to quickly and safely restore power to communities in 2019.
The award is presented to FMEA member utilities for their work to restore power within their communities and/or sending aid to their fellow public power utilities following a significant weather event. Utilities were honored based on restoration times, customer communications efforts and level of mutual aid provided.
KUA crews traveled to Lakeland in October to help restore power to those impacted by an EF-2 tornado that devastated parts of the city.
This is the fourth consecutive year KUA has been recognized with the award.
About FMEA
The Florida Municipal Electric Association (FMEA) represents the unified interests of 33 public power communities across the state, which provide electricity to more than 3 million of Florida's residential and business consumers.
Founded in 1901, KUA is Florida's sixth largest community-owned utility powering 80,000 customers in Osceola County, Fla. For more information, visit https://kua.com.