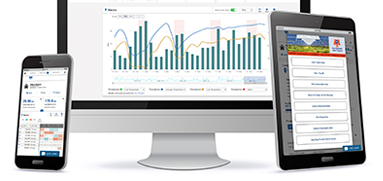 KISSIMMEE, Fla., March 25, 2020 – Customers of Kissimmee Utility Authority are now able to more easily access their accounts through a newly developed, mobile-friendly account management portal, launched by the utility on March 20.
The portal, my.kua.com, gives customers the ability to complete some of the most common functions associated with their accounts, from viewing and paying bills and reviewing past consumption to setting up high usage alert notifications to help them stay within budget. Customers can also use the portal to report outages, view an outage map, and start, stop and transfer electric service.
The portal keeps customer security and privacy at the forefront, with end-to-end encryption as well as user authentication and time-outs to ensure that only authorized users obtain access, which means both customer and utility information remain protected and secure.
The portal is accessible from all desktop, laptop, tablet and mobile devices.
"This portal offers valuable features to help customers save energy, lower their bills, and budget better than ever before," said Jef Gray, KUA's vice president of information technology. "Plus, if you have multiple KUA accounts, you can use a single login to view all your information in one place."
A video tutorial on how to navigate the portal can be found on the utility's YouTube channel at https://youtu.be/J3lQRXzDYFI.
Founded in 1901, KUA is Florida's sixth largest community-owned utility powering 80,000 customers in Osceola County, Fla. For more information, visit https://kua.com.