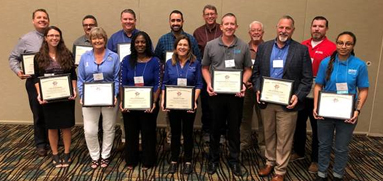 KISSIMMEE, Fla., Oct. 11, 2019 – The Florida Municipal Electric Association has presented its 2019 Building Strong Communities Award to Kissimmee Utility Authority for the utility's strong commitment to addressing community needs during the past year. KUA was one of 14 utilities honored statewide.

FMEA executive director Amy Zubaly presented the award to KUA during ceremonies held Oct. 9 at the association's Energy Connections Conference & Trade Show in Kissimmee.
The award is presented annually to utilities that enhance the quality of life in their communities through activities which address community needs and improve the area's social, cultural, educational and economic environment.
"Public power is community power. Everything public power utilities do is driven by their community and our members work hard every day to ensure they are not only providing the most affordable, reliable power possible, but also giving back to the communities they serve," said Amy Zubaly, FMEA Executive Director. "We commend KUA for the positive impacts they have on their local community and the work they do to enhance the quality of life of their families, friends and neighbors."
In the past year, KUA supported nearly 100 community organizations and activities that impacted a combined 250,000 residents. Notable projects included:
daily employee delivery of meals to homebound seniors through Meals on Wheels
hosted six community blood drives
funded eight college scholarships for local high school students
distributed 70,000 free hurricane preparedness guides
sponsored free student admission to the Osceola County Fair
funded Osceola County Library System's international festival
supported Thanksgiving meals for homeless military veterans
sponsored Kissimmee's annual Puerto Rican cultural parade and festival
participated in holiday toy drives for children in need
packed 2,000 personal hygiene kits for area nonprofit organizations who serve homeless, veteran, senior citizen, and foster children populations
"Partnering with the community is a core value of our organization and part of our mission statement," said KUA president and general manager Brian Horton. "I am thrilled that KUA has again received statewide recognition for its work in the local community."
About FMEA
The Florida Municipal Electric Association (FMEA) represents the unified interests of 33 public power communities across the state which provide electricity to 14 percent of the state's population – over 3 million Floridians.
About KUA
Founded in 1901, KUA is Florida's sixth largest community-owned utility powering 77,000 customers in Osceola County, Fla. For more information, visit https://kua.com.