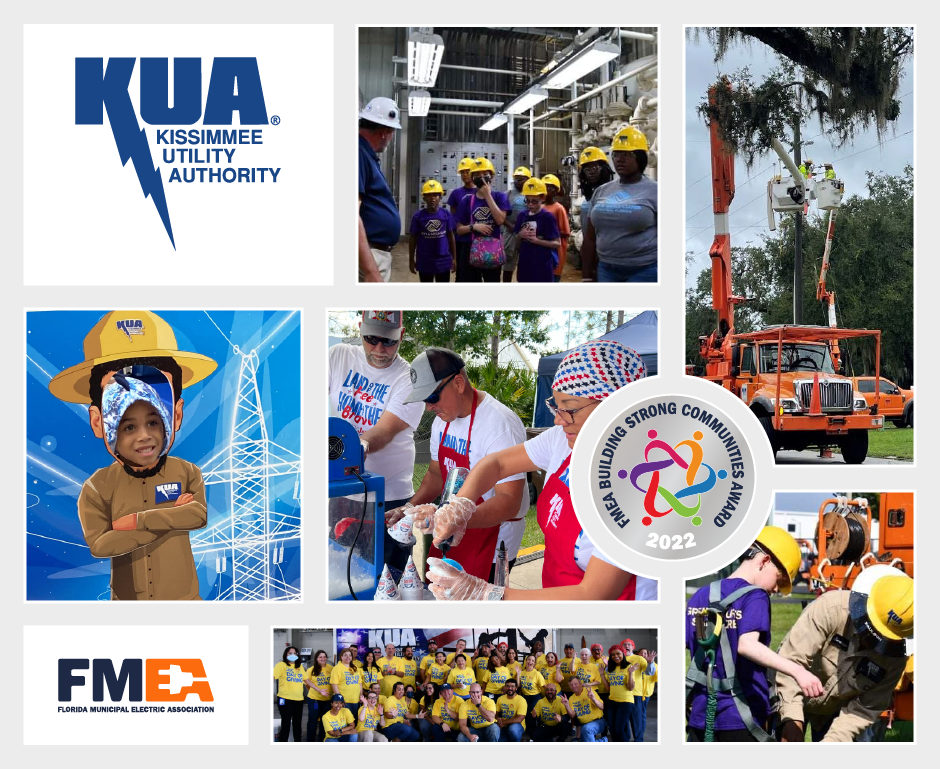 For immediate release — Nov. 2,  2022
KISSIMMEE — Kissimmee Utility Authority is being recognized by The Florida Municipal Electric Association (FMEA) with a "Building Strong Communities" award for making valuable investments that enhance the quality of life in our communities beyond efficient delivery of affordable, reliable, and clean energy.
FMEA recognized public power utilities for programs and projects that improve the environment, provide community education, collect charitable donations, focus on crime prevention and other special programs, such as lighting ball fields and playgrounds, taking part in community and holiday celebrations, hosting blood drives, recognizing veterans and members of the military, and strengthening the communities in which they serve.
In the past year, KUA supported nearly 100 community organizations and activities that impacted a combined 250,000 residents. Notable projects included:
hosting several community blood drives
completing 1,279 free home energy audits and processing 562 rebates
funding $22,500 in college scholarships for local high school students
distributing 60,000 free hurricane preparedness guides and 15,000 free energy conservation calendars
sponsoring free student admission to the Osceola County Fair
sponsoring the City of Kissimmee's Monumental 4th of July event and provided a Kids Zone
supporting Christmas meals for homeless military veterans
packing 10,000 meals for Rise Against Hunger for KUA's Month of Giving
participating in holiday toy drives for children in need
installing additional EV Charging Stations resulting in a total of 62 in Kissimmee
collecting more than $120,000 for KUA's Good Neighbor Fund
"Partnering with the community is part of our mission here at KUA, which is why this recognition means the world to us," said KUA President and General Manager Brian Horton. "As a community-owned utility, we always strive to improve the quality of life for our customers, so we are truly humbled to receive this award."
KUA was announced as an award recipient on Nov. 2 at the FMEA Energy Connections Conference and Trade Show in Orlando. The utility joins 16 other community-owned Florida public power communities in receiving this award.
"The people of public power go all in for their communities and are willing to go the extra mile because they live there, too, and they want their communities to be the best they can be. It is one of the reasons the public power model works so well," said Amy Zubaly, FMEA Executive Director. "We applaud each of the award recipients, including KUA, for all they do to make their communities stronger and the quality of life better for their family, friends and neighbors."
About FMEA
Florida's 33 public power utilities, combined, are the third largest electric provider in the state, serving 14 percent of Florida's customers. Florida's public power utilities serve more than 3 million customers and are a statewide employment leader with more than 5,400 employees.
About KUA
Founded in 1901, KUA is Florida's sixth largest community-owned utility powering 90,000 customers in Osceola County, Florida. For more information, visit www.kua.com.###