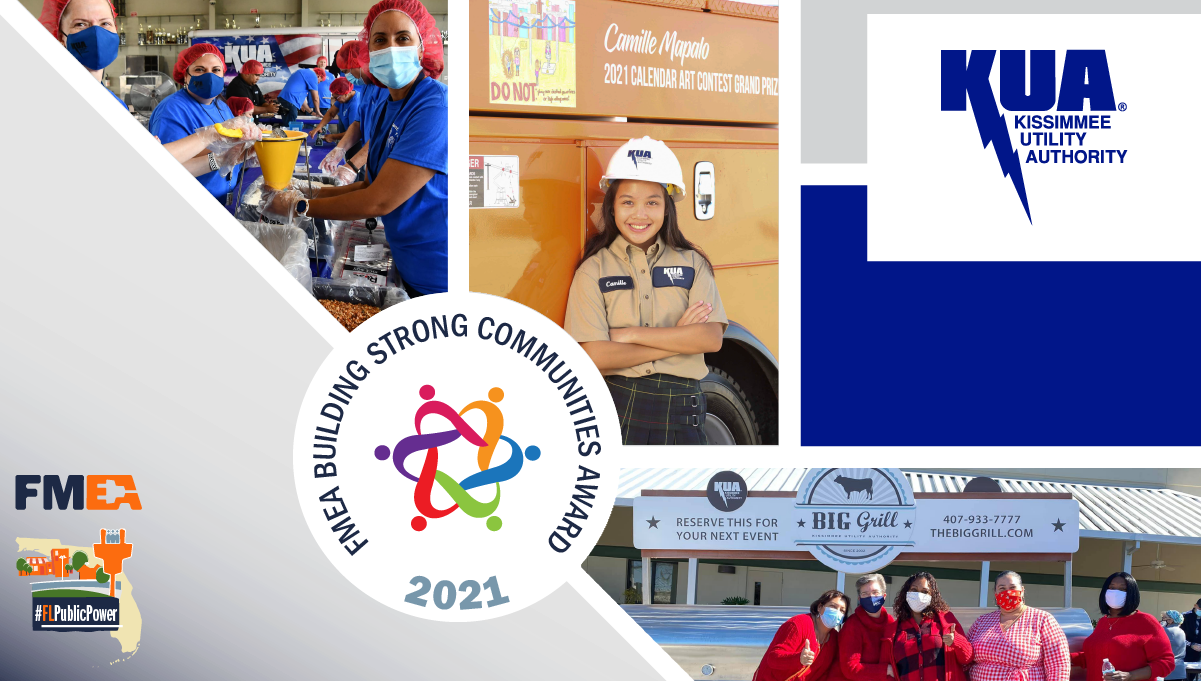 For immediate release — Nov. 4,  2021
KISSIMMEE — Kissimmee Utility Authority was recently recognized by The Florida Municipal Electric Association (FMEA) with a "Building Strong Communities" award for making valuable investments that enhance the quality of life in their communities, beyond efficient delivery of affordable, reliable and clean energy.
FMEA recognized public power utilities for leading programs such as improving the environment, providing community education and collecting charitable donations. FMEA also presented awards to utilities for installing charging stations for phones and electric vehicles, participating in community celebrations, hosting blood drives, career fairs, and more.
In the past year, KUA supported nearly 75 community organizations and activities that impacted a combined 250,000 residents. Notable projects included:
hosted several community blood drives
completed 791 free home energy audits
funded college scholarships for 7 local high school students
distributed 60,000 free hurricane preparedness guides
sponsored free student admission to the Osceola County Fair
sponsored the City of Kissimmee's Monumental 4th of July event and provided a Kids Zone
supported Thanksgiving meals for homeless military veterans
packed 10,000 meals for Rise Against Hunger for KUA's Month of Giving
participated in holiday toy drives for children in need
installed additional EV Charging Stations resulting in a total of 41 in Kissimmee
collected more than $100,000 for KUA's Good Neighbor Fund in addition to a $50,000 donation
"We are extremely honored to receive this award in recognition of our contributions to the community we serve," said KUA President and General Manager Brian Horton. "As a community-owned utility we always strive to improve the quality of life for our customers and build a more vibrant community, so we are truly humbled to be recognized for our efforts."
KUA was announced as an award recipient on Nov. 3 at the FMEA Energy Connections Conference and Trade Show in Orlando. The utility was one of 21 other Florida public power communities in receiving this award.
"The people of public power utilities are eager to contribute more to their communities than just doing their job to keep the lights on and power flowing," FMEA Executive Director Amy Zubaly said. "These hardworking men and women are dedicated to making the communities they serve — the communities they live in — a better place for everyone. Congratulations to all the winners and thank you for all you do to invest back into your communities to make them stronger."
About FMEA
Florida's 33 public power utilities, combined, are the third largest electric provider in the state, serving 14 percent of Florida's customers. Florida's public power utilities serve more than 3 million customers and are a statewide employment leader with more than 5,400 employees.
About KUA
Founded in 1901, KUA is Florida's sixth largest community-owned utility powering 84,000 customers in Osceola County, Florida. For more information, visit www.kua.com.