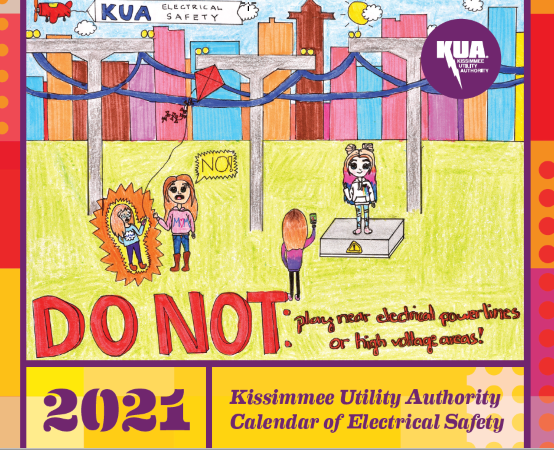 For immediate release – Jan. 5, 2021
KISSIMMEE— Kissimmee Utility Authority has released its 2021 Calendar of Electrical Safety, featuring the winning entries from its 27th annual student art contest.
The calendar, available free of charge at the utility's customer service center at 1701 W. Carroll Street in Kissimmee, features an assortment of electrical safety tips and incorporates the Osceola County School District calendar for convenient planning.
Open to Osceola County students in Kindergarten through sixth grade, the contest is designed to promote electrical safety among students and their families.
This year, a total of 740 entries were received from seven Osceola County elementary schools, including, public, private, charter, virtual and homeschool students.
A panel of judges selected 12 entries – one for each calendar month – which are featured in the full color wall calendar.
The featured students are:
Camille Mapalo, Holy Redeemer Catholic School ( Grand Prize Winner)
Alenka Gaspar, Osceola Science Charter School
Kristin Brought, Celebration School
Diego Gutierrez, Highlands Elementary
Valentina Vargas, Central Avenue Elementary
Rihanna Lalloo, Flora Ridge Elementary
Bryanna Mora, Holy Redeemer Catholic School
Madalyne Roman, Flora Ridge Elementary
Brianna Beauplan, Holy Redeemer Catholic School
Arianna Garcia, Flora Ridge Elementary
Anabella Gomez, Holy Redeemer Catholic School
Olivia Grieves, Holy Redeemer Catholic School
Founded in 1901, KUA is Florida's sixth largest community-owned utility powering 80,000 customers in Osceola County, Florida. For more information, visit www.kua.com.