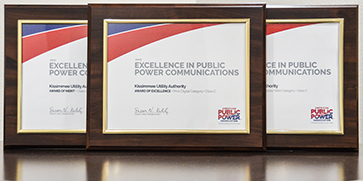 KISSIMMEE, Fla., November 13, 2017 – Kissimmee Utility Authority won three awards in the Excellence in Public Power Communications Awards, a national competition sponsored by the American Public Power Association. The winners were announced at the association's 51st annual Customer Connections Conference held last week in Sacramento, California.
The awards honored electric utilities in three categories: print/digital, video and web/social media.
In the print/digital category, KUA received an award of excellence for its 2017 Osceola Hurricane Handbook. The utility's 2016 Holiday Mannequin Challenge video with students from the Boys & Girls Clubs of Central Florida was recognized with an award of merit in the video category, and its 2016 Movie in the Park promotional campaign was recognized with an award of merit in the social media/web category.
KUA was the nation's most honored utility in this year's competition.
KUA has earned 322 local, state, national and international communication awards for public relations programs, special events, community relations and publications since 1995.
Founded in 1901, KUA (https://kua.com) is Florida's sixth largest community-owned utility powering 74,000 customers in Osceola County, Florida.